Save

රු

28,375.00!
SHARP Electronic Cash Register XE-A 307 Srilanka
රු175,000.00
Compare
Description
XE-A307
2-Sheet quick and silent drop-in thermal printer
Built-in SD card slot for program backup and easy data transfer
Barcode scanner connectivity
Clear multi-line operator display with tilt-mechanism for user-friendly operation
Guided programming for easy set-up
99 departments and up to 10,000 articles each with 16 character text
Convenient on-screen electronic journal viewing
Quick and accurate price entry by supported barcode scanning functionality
Overview
As the highest specification machine in the Sharp XEA range, the XE-A307 features a class leading large multi-line operator display and is ideal for retailers who need a professional, reliable and easy to use machine.
One of the key benefits of the XE-A307 is the built-in support for barcode scanning to allow for fast customer service.
For a full audit trail, a fast twin station printer is included as well as a 9,000 line Electronic Journal.
For easy set-up, a free PC Link software programme allows for effortless product maintenance and via the SD card a data export function allows for sales data to be saved for use within any spreadsheet.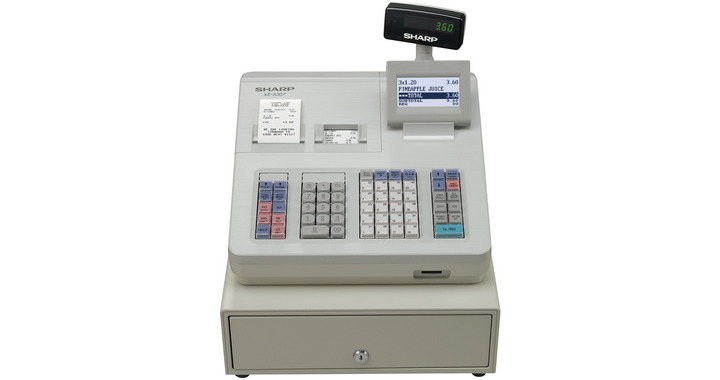 Downloads



Datasheet




Operational manuals
Specifications



Printer

2 station thermal printer

yes

Print Speed (lines / sec.)

12.0

Paper size (mm)

58

Graphical Logo

yes




Display

LCD type

yes

Multi-line alphanumeric LCD / digits / lines

yes / 20 digits / 5 or 8 lines

Pop-up type

yes

7-segment / 7 positions

yes/yes




Keyboard

Normal keyboard type

yes

No. of standard keys

59

No. of maximum keys

59




Drawer

Standard equipment

yes

Bills

5

Coins

8

Coin case removeable

yes

Drawer lock

yes




Features

Standard Departments

99

Maximum Departments

99

Text size (digits)

16

Standard PLUs

10.000

Maximum PLUs

10.000

Text size (digits)

16

<b>EAN</b>

yes

Standard EANs

10.000

Maximum EANs

10.000

PLU / EAN stock

no/no

Price Level

1

Clerks standard / maximum

25 / 25

VAT rates

4

Periodic Transaction report

yes

Clerk report

yes

PLU / EAN report

yes/yes

Hourly Report

yes

Electronic Journal

yes

Online communication

yes




Technical Specification

Dimensions (W x D x H mm)

360 x 425 x 365

Weight (kg)

12.0

Maximum Watts

46

Standby Watts

11

Working Temperature (in °C)

0 – 40

Batteries (AA)

2

Paper Roll Width (mm)

57.5 +/- 0.5

Paper Roll Diameter (max. mm)

80




Accessories

Operation manual

Basic User Manual

Drawer keys

2

Paper take-up wheel

1

Paper roll

2

Holding angle

1